Starting a New Practice?
Do what you do best -

outsource the rest!

Physicians face many questions in setting up a new practice and running the multiple facets of their businesses. One of the most crucial, which can significantly affect the profitability of a practice, is whether to outsource revenue cycle management to a third-party medical billing service (such as ours) or to manage medical billing "in-house".

Here are some key points you should consider when making this decision.

Business Case for Outsourcing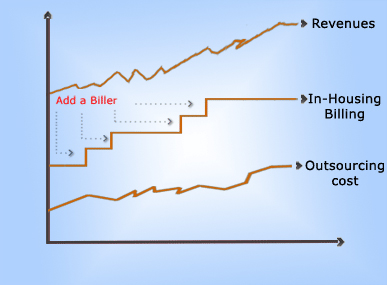 Cost – The expenses of paying billers' salaries, covering employee benefits, office space and purchasing technology systems generally add up to more than is commonly paid out to a third-party medical billing service.

Efficiency – A medical billing service's processes, efficiencies, technology and scale are already in place from day one and we therefore do a better job of collecting more of the receivables than in-house teams. Our staff is thoroughly trained on multiple software systems.

Transparency – A medical billing company like ours can supply you with comprehensive performance reports automatically or upon request. This capability grants you unparalleled visibility into your billing operations without requiring you to manage any staff.

Variable Cost, Not Fixed Cost – Like most medical billing companies, we charge a percentage of collections; so if you have a slower month, you are not covering the fixed overhead required for busier months. This is especially useful when you are starting a new practice and growing your patient base.

Opportunity Cost – With all the things you need to do at the crucial point of starting your practice, is it the best idea to put a great deal of time, money and effort into hiring, managing and overseeing staff for non-clinical functions in your practice?

Liabilities – Unfortunately, internal medical billing departments can be hotbeds for embezzlement, and general employee neglect (think ignored encounter forms, discarded superbills, and unappealed claim denials) can go unnoticed without strict supervision -- cutting deeply into your bottom line.

Support Issues – If your billing department consists of only two or three staffers, your operations – and cash flow – can be significantly stalled when even just one employee gets sick, goes on vacation, takes a leave of absence or quits altogether.
What will internal billing really cost you?

With internal medical billing, salary is typically only about 70-75% of your employee costs when you figure in payroll taxes, FICA and insurance. Not to mention the added costs of administering them.
It's important to take these additional costs, as well as opportunity costs for claims an internal staff may not be qualified enough to appeal and get paid, into account when deciding how best to handle your medical billing.

Performance
Today our clients enjoy the benefits of accounts receivable management that on average rank better than the top 25th percentile of multi-specialty group practices nationwide as surveyed by the Medical Group Management Association and Healthcare Billing Management Association for Days Revenue in AR.
The implications of this statistic for our clients include:
Our clients on average get paid faster than 75% of all group practices in the U.S.
Cash flow is more consistent and reliable
"Lost" collections that are the inevitable result of poor AR management are eliminated
Find out today how Medical-Billing.com can help you start your practice with maximum revenue.